Outsourcing Bookkeeping Services Online
Outsourcing bookkeeping to India is fast and easy. Our bookkepers can work with you in a way that suits you best to make the entire outsourcing process an incredibly pleasant experience.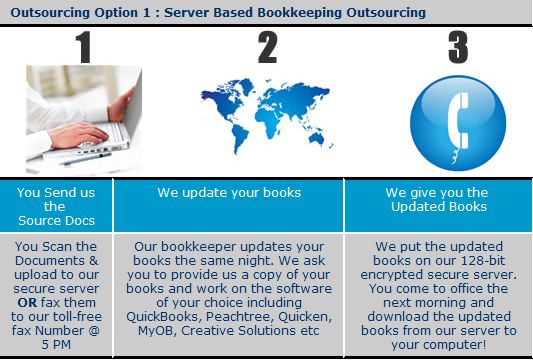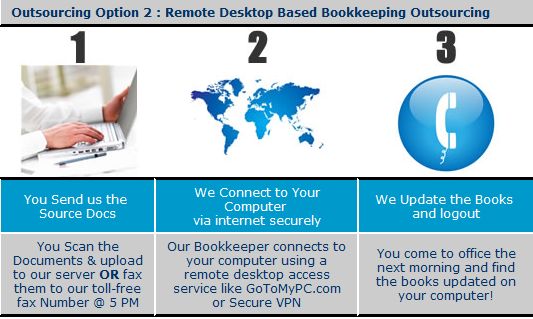 Have difficulty understanding the outsourced bookkeeping process? Call us now Toll-free on 1-888-671-0829 and we will walk you through the various process options.
Outsourcing Bookkeeping - Process Options Comparison
We support THE widest range of process options available for outsourced bookkeeping to suit your convenience. Outsource bookkeeping process options include Remote Access Based, Hosted Software Based, Server Based and Online Options.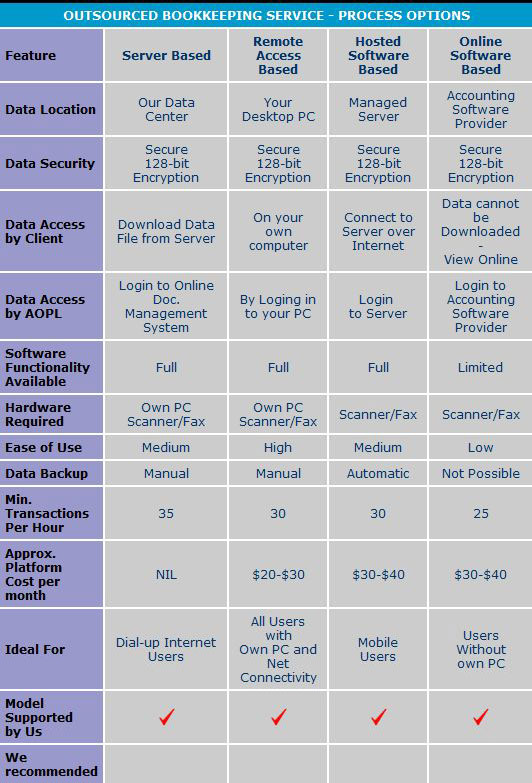 Have difficulty in understanding the ouscourced bookkeeping process? Call us now on 1-888-671-0829 and we will walk you through the various process options. Outsource bookkeeping now to focus on your core business!
Outsourcing Bookkeeping to India - Data Security : Our #1 Priority
As tax, accounting, and outsourcing professionals, we understand the significance that data security holds for you. That's why our accounting outsourcing team uses only the best of encrypted technology to make sure there are no breaches of your private information.
Among several things that we do includes signing Non-Disclosure Agreements with every bookkeeper that we have in our India outsourcing facility, using 128-bit encrypted servers for storing accounting data and having a paper-less office where bookkeepers work on dual monitor computers. Also the access to our outsourcing facility is physically restricted to only authorized bookkeepers & accountants using biometric scanners.