Bookkeeping Services Fee
We provide our customers with an unmatched value proposition by giving great quality work at extremely affordable prices. Our Bookkeeping / bookkeeping rates are as follows: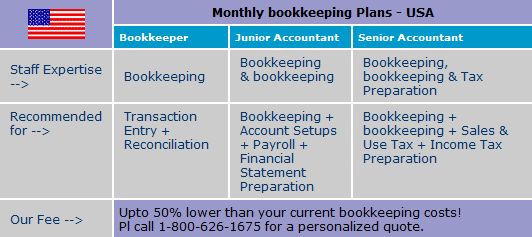 Administrative Services
All dedicated staff are able learn and provide administrative services as well. Examples include insurance claim processing for Doctors, Shipment tracking for Logistics firms, Document Management for Attorneys, Title Searches and Binder Preparation for Title companies, Dispatch Management for Services firms etc.
Tax Return Preparation Fee - For CPA Firms
We provides back office Bookkeeping support to CPA and bookkeeping firms at extremely competitive pricing. They can concentrate more on consulting and let this work be done by us at the backend, while they save considerably on the Bookkeeping costs. We sign non-compete and confidentiality agreement to assure that we stay behind the scene completely unnoticed
No minimum billing condition
Individual & Business Tax Return Preparation at LOW per return rates
How Much Do you Save ?
The following table gives an indication of what you could save by using our services.

How Do You Pay For Our Services ?
You can pay for our services through Check or Wire Transfer or Master / Visa / American Expres by setting up automatic transfer on a monthly basis. We will bill you first week each month. Our pricing policy is based on a pay-per-usage model. There are no strings attached, no sign-up fees and no difficulties in stopping services. We use standard tools that allows you to join or quit our services with full control of your books.
Monthly Fixed Rate Bookkeeping Fee
Want a fixed monthly expense? Call today to discuss a contract rate.
Getting Started With Online Bookkeeping Services
Getting started is easy and fast. It involves the following 3 steps
Verbal Agreement
Engagement Letter
Account Setup
And thats it! Your account is ready to be setup.